https://pbs.twimg.com/media/CzzBhm7XEAArkxZ.jpg
Frenchman William Gallas didn't win any major trophy for the Gunners during his four-year stay at the club. William Gallas is not a name that the Arsenal fans would forget in a hurry for various reasons. His most famous act as an Arsenal player was when he suffered a meltdown at the end of a Premier League encounter with hosts Birmingham City at the St. Andrew's Stadium.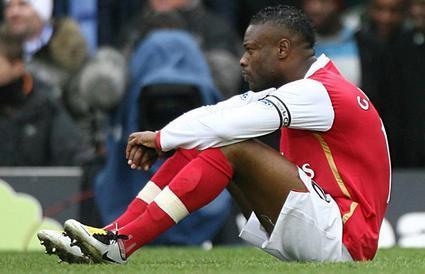 William Gallas sat down on the pitch after his team conceded a late equaliserfrom Liam Ridgewell as the home team secured a 2-2 draw with ten men. Arsenal had earlier suffered a big injury when Brazilian-born Croatian striker Eduardo da Silva had a broken ankle via a bad tackle from Martin Taylor. Despite the red card issued to Martin Taylor, Arsenal were unable to win the game.
Ahead of the Birmingham City game, Arsenal were flying high at the top of the Premier League table and were looking good for a first league title in five years. The clash with Birmingham City in February 2009 represented the beginning of the end for the Gunners as they failed to recover from Gallas' meltdown and the horrific injury to Eduardo da Silva.
Also, the Arsenal fans never come to terms with the decision to hand William Gallas the number 10 jersey when he signed for the Gunners from London rivals Chelsea in the summer of 2006. He took the number 10 shirt which was vacated by club legend Dennis Bergkamp when he retired at the end of the 2005/06 campaign.
Arsenal signed Gallas from Chelsea in a swap deal that saw Ashley Cole move to Stamford Bridge and several Gunners fans believed that their team didn't get the best part of the deal at the time and they were proved right as Gallas didn't have the best of careers at the Emirates Stadium.