Retired French star William Gallas in a shocking turnaround denies ever saying he would score an own goal intentionally. He featured for Chelsea, Arsenal and Tottenham, playing over 300 games in the Premier League.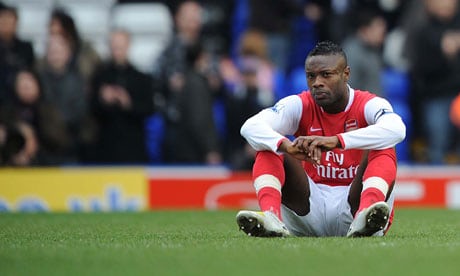 The star has been involved in dressing room bust-up, controversies and all but he has won the league and went close to lifting the World Cup. He admits his true nature but denies ever saying he would intentionally cause an own goal.

Gallas, who has spent so many years in London, says he likes the city because of its cosmopolitan nature. He says the city has changed compared to 2001 when he first arrived at London. He complained of the traffic and impatient people.
The Clairefontaine trained man revealed that he started out as a striker but after frustrations in getting signed early in his career, he changed position. He impressed in the right back role so he go an offer to Caen. He spoke about a lot about his experienced at Stamford Bridge, including the transformation when Roman Abramovich took over.
Gallas said the new owner really invested in the club, and in switching things. He said the Russian billionaire opted for the Blues after the defeated Liverpool in the 02/03 season. He said Abramovich's passion really helped build Chelsea into the top club it is now.
Gallas said disagreements here and there after the 2006 World Cup made him want to exit Chelsea. The last straw was when his No. 13 shirt was given to Michael Ballack. There is widespread belief that Gallas threatened to score an own goal but the player denied it in the interview. He said it was people trying to blame him for what was happening. He eventually got his wish and moved to Arsenal. He also played for Spurs but named Chelsea as his favourite of the London clubs.